Down the years a great many foreign nationals arrive in Hong Kong as visitors 'on spec' and are able to successfully change their immigration status in order for them to take up employment when a job offer manifests itself here. This question discusses this very issue and provides the answer that a lot of people are asking about.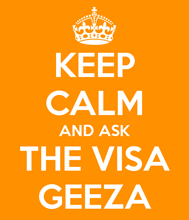 QUESTION
"Hi Stephen, 
Thanks for getting back to me on Twitter (@xxxxxx).
Basically, my partner has been offered a teaching post, to commence mid-August 2012, so she should be able to get her visa fine.
We are engaged but weren't planning on getting married any time soon.
I am currently a Senior HR Manager in the US and would like to pick up the same job in Hong Kong, however I will have to enter on a visitors visa and I am worried about being seen looking for recruitment as I know they don't like it.
If I do this, what happens if I get a job offer?
Can I leave to Macau to then come back into the country?"
ANSWER
This question really gets to the heart of whether or not it's possible to come to Hong Kong as a visitor and then change your status to employment in regard to a job offer that may manifest itself while you find yourself in Hong Kong as a visitor.
Today the Hong Kong the system works such that you can be in Hong Kong as a visitor and you can make an application for an entry visa to take up employment or you can be outside of Hong Kong and make an application for an entry visa to take up employment.
Whether you're inside or outside of Hong Kong these days in a practical sense particularly from say Europe or North America or Australia for that matter, it doesn't really matter where you are. The application consideration criteria are exactly the same irrespective of the pathway that you adopt to getting your application processed.
As regards you coming to Hong Kong as a visitor, specifically to look for work, even though you are going to be joining your fiancée, it is permitted activity to be in Hong Kong and look for employment indeed to interview for employment, although in a very practical sense I would suggest that as you come into Hong Kong for the first time across the border, if the examining officer asks you what's your purpose for coming to Hong Kong I wouldn't specifically state that you're coming to look for employment. Just say that you're coming to visit your fiancée who's working in Hong Kong or is a resident of Hong Kong.
And in fact, if we were to look back through our files down the years I think it's fair to say that probably 70% of all employment visas tend to be applied for on the basis of an adjustment in status from visitor to employment. So, when you state that, the Immigration Department don't like people coming to look for jobs as such it's not so much that they don't like it, it's they have a preferred methodology of submitting an application for an employment visa – they prefer that you do it from outside of Hong Kong but the practical reality is that a lot of people find themselves in Hong Kong, as I say, when a job offer manifests themselves itself. So, they do entertain such applications and are prepared to grant approvals as long as the approvability test for the particular application has been satisfied. So, I think that probably takes care of the question part that relates to adjusting your status to an employment visa.
Just one final note that given that you are fiancées without a fixed date for marriage as of yet, if you can show that you have a prior cohabitation before coming to Hong Kong and that your cohabitation continues after you've come to Hong Kong it is possible for you to get a prolonged visitor visa, which will allow you to live together with your partner but of course that doesn't grant you permission to work. You'd still have to go through the process of submitting an application for a separate employment visa adjusting his status from visitor through to employment accordingly which takes you back to where you were at the beginning of this question.
Okay, so I hope that helps. Bye for now.
More Stuff You May Find Interesting or Useful
| | |
| --- | --- |
| | |
| PODCAST ANSWER | |
Podcast: Play in new window