Hong Kong Visa Geeza | How I Messed Up | Putting It Right | Lessons Learned
September 18th, 2023
Posted in Feature Article, Musing /
Hong Kong Visa Geeza & How I F#ckedUp
The Hong Kong Visa Geeza Tale Of Woe In The Lost Decade 2000-2010
Video Presentation
On March 2, 2017 I was asked by Campfire in Kennedy Town to contribute to their F#CKUP NIGHT series and invited to share my tale of business woe and commercial misfortunes which befell me between 2000 and 2010… Hong Kong Visa Geeza – How I F#cked Up – this is that 19-minute presentation.
Stephen Barnes: aka Hong Kong Visa Geeza
For those of you who haven't had the pleasure, allow me to introduce myself. I'm Stephen Barnes, but you might know me better as the Hong Kong Visa Geeza. I've been navigating the labyrinthine corridors of Hong Kong immigration for a solid 30 years. That's right, I've been in this bustling metropolis for more than three decades, and all I know professionally is how to get you that coveted Hong Kong visa.
But today, I've got a tale of woe and wisdom to share—a story that's been the bedrock of my recent successes. So grab a cuppa, and let's dive in, shall we?
A Late Bloomer Finds His Way
I was a late bloomer, you could say. Left school at 15 in England, strapped on a backpack at 17, and set off to see the world. By 27, I was living in Hong Kong, married, and prepping for law school. Graduated in '93, and boy, did I think I was Superman. I was soon at the helm of a business that gave me a taste of success. And how did I achieve it? Two pivotal decisions:
1. Niche Down: I started as a general legal consultant, but soon realized I was just a discounted alternative to a solicitor. So, I chucked all that to focus solely on Hong Kong immigration.
2. Wrote the Book: In '96, when HSBC was still fiddling with dial-up, I published a book on Hong Kong immigration. For free. Online. That, my friends, was the making of me.
When the Tsunami Hit
But then, the years between 2000 and 2010 were a rollercoaster of epic proportions. I was involved in three deals that, let's just say, didn't go as planned.
1. Microsulis: A tech company that had a revolutionary solution for women with dysfunctional uterine bleeding. We were almost there, but the dot-com bubble burst, and our funding dried up.
2. Global Immigration Practice: Merged my Hong Kong practice into a global one. But then, I was slowly edged out of key decisions. Ended up in litigation, and let's just say, it was a walk in the woods I'd rather forget.
3. Orla: A tech venture that consumed $1.5 million and seven years of my life. Just when we were turning revenues, the Global Financial Crisis hit.
Lessons from the School of Hard Knocks
So what did I learn from these misadventures?
Don't Undervalue Yourself: Know your worth and don't let anyone roll over you. This is crucial, folks. If you don't value yourself, no one else will.
Choose Your Partners Wisely: Loyalty is good, but blind loyalty is a one-way ticket to disaster. I learned this the hard way. Choose partners who share your vision and values.
Behavioural Economics: If your business model requires people to change their behaviour, you're on a hiding to nothing. People are creatures of habit. Don't expect them to change overnight for your brilliant idea.
Stick to Your Knitting: I've only ever made money in Hong Kong immigration. So that's where I've decided to stay. If you're good at something, stick with it. Become the best in that field, and success will follow.
The Blueprint for Success
So, what's the secret sauce now? Simple. Put yourself in the customer's shoes. Design your products around their needs, not your whims. Be generous. Command attention. And most importantly, offer peace of mind. That's what people are really buying when they come to us for a visa.  In the words of Henry Ford, "Failure is an opportunity to begin again, only more intelligently." So, if you're starting from scratch, go on the internet, read up, and apply modern forces to build something new, interesting, and remarkable.
My Intellectual Heroes
Seth Godin, Kevin Kelly, Don Tapscott, and Charlie Munger—these are the intellectual giants who've shaped my thinking. They've taught me that if you want to be successful, you have to be remarkable. You have to create something that people will talk about, something that will capture their attention in this age of endless distractions.
The Business Model
We offer a serious money-back guarantee. Why? Because we're the only ones who can truly assess the risk in the visa application process. If we're confident enough to take your case, then we should be confident enough to guarantee it. It's all about creating a seamless, frictionless experience for the customer.
Idea Virus
Seth Godin speaks of the importance of an idea virus to underpin your business model. Hence the Hong Kong Visa Geeza was born.
Client Testimonials
Our clients have never been shy in saying what they made of their experience when dealing with us professionally. See, for example, this video from way back in 2011.
The Final Takeaway
So, the upshot of all these trials and tribulations is that you don't need capital to start anew. What you need is education and the ability to think critically. The internet is a treasure trove of information. Use it. Learn from it. And apply it to build something new, interesting, and remarkable. And that, my friends, is the Hong Kong Visa Geeza's tale of trials, tribulations, and triumphs.
(Phew!)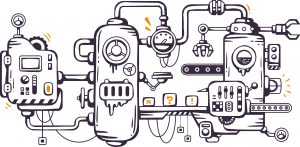 VisaGeeza.Ai – 13 Years In The Making
All Our Know-How: All Our Experience: Fully Interactive
100% FREE!
More Stuff You May Find Interesting or Useful