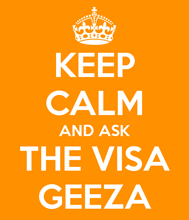 There is quite often confusion surrounding the interplay between China and Hong Kong immigration laws and processes so this question from an Iranian national studying in Beijing, provides an opportunity to address this issue here on the Visa Geeza blog.
QUESTION
"Hi, this is Danush from Iran.
I'm studying in Beijing and I plan go to Hong Kong for a  summer vacation.
My question is this: Do I need apply for Hong Kong visa to visit or not? I heard from some friends, that if I hold a student (Chinese) X Visa then I don't need a Hong Kong visa.  Is this true?
Thanks a lot"
ANSWER
There seems to be on occasion some confusion as to how the interplay of Hong Kong and China immigration laws work.
As we can see from this question from Danush there could be an assumption that just because you have one kind of visa in China perhaps that means that you have special arrangements in relation to Hong Kong but that is certainly not the case.
Hong Kong and China are separate immigration jurisdictions with separate processes. They do talk to each other, do exchange of information level but the process themselves are discrete and separate. So, our Iranian national here is believing that because he has a Chinese student visa that will alleviate his need to secure special immigration permission to visit Hong Kong because as an Iranian national you do need the visa before arrival.
So, in submitting an application for a visit visa you will need to allow 40 days for processing. Expect security background checks to be undertaken and once your visa has been approved subject to you being able to show your bona fide days as a visitor you will be granted a double entry visa with a stay of seven days on each occasion so you'll need to make an application for a visitor visa and you'll find in this blog post the links that you need to progress at your visitor visa application.
More Stuff You May Find Interesting or Useful
| | |
| --- | --- |
| | |
| PODCAST ANSWER | |
Podcast: Play in new window