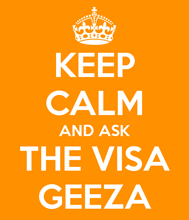 Do you need to leave Hong Kong to activate a Hong Kong employment visa extension of stay together with an accompanying dependant visa? Has Covid19 made any difference to the way the Hong Kong Immigration Department extend such status for currently resident foreign nationals?
QUESTION
Hi Visa Geeza.
I'm asking a question that has already been answered however …
Do we need to leave Hong Kong and re enter in order to activate a visa extension?
My partner is renewing her current visa with a current employer. So it's an extension without a change of employer.
However, her employer is of the view that she has to exit and re enter and is saying that HR is saying the same thing.
But right now, we're in COVID, lockdown, etc and believe its not actually necessary.
We have previously referred her employer and the HR team to the question previously answered in your podcast where you state that because it's simply an extension you have already entered, your visa is active and you're just extending it and that's what I believe as well.
However, could you maybe give us a more defined concrete answer so that we can definitively address this and avoid the need for the significant disruption an exit and re-entry would cause
So to restate:
Do we have to exit and re-enter Hong Kong in order to activate a work visa extension?
Thanks.
ANSWER
COVID-19 has not in any way changed the way that the Immigration Department process routine extensions of stay for employment visas with accompanying dependent these extensions thrown in.
The protocol is exactly the same as it's always been that is that you make an application for your extension four weeks before (or within four weeks before) the expiry of your current limits of stay.
Immigration Department will then take a few days to process everything and give you a return date upon which you will go back to the Immigration Department collect your passports with the new extensions endorsed in your passports and your new extension of stay becoming active from the date that they are endorsed in your passport accordingly.
So there is no requirement to exit and re enter Hong Kong because you're not actually activating a new visa, you are extending an existing visa.
So there is as I say no requirement to exit and re enter Hong Kong in order to complete that procedure.
I also checked with my team and in the last 60 days we have completed these procedures in this fashion some 38 times.
Hope you found that helpful.
More Stuff You May Find Interesting or Useful
| | |
| --- | --- |
| | |
| PODCAST ANSWER | |
Podcast: Play in new window