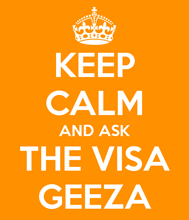 If you're claiming skills, knowledge or experience on your CV as part of your argument for a Hong Kong Employment Visa Application – what's the gig if you can't fully  support your claims with references or testimonials?
QUESTION
Hi, I am 8 weeks into applying for an employment visa (I'm British).
I have given the documents and a couple of weeks ago had to supply a reference which I managed to get hold of.
And yesterday my would be company heard from them again asking for another reference that was listed on my CV.
However.. the person has now left the company (the company may have even closed and now they have changed careers (it was a 5 year ago position I was referencing).
Do you think it's OK for this person to state that they have left the company and just provide a letterheaded reference from their current place?
My other friend said it may be tricky.
Please help if you can. I'm not sure what to do.
Thanks a lot!
ANSWER
Naturally enough if you are claiming certain skills and experience on your CV and you're expecting the Immigration Department to rely on them as being a true and accurate statement of your experience and work capabilities, it's incumbent upon you to produce the kind of documentation which speaks to the veracity of your CV.
Now, of course, on occasion, it might prove impossible as you've encountered to pick up a particular reference from sometime prior particularly if that employer is no longer in business. So usually what the Immigration Department is prepared to do is to at least receive the second best evidence that you can supply and if that happens to be a reference or a document that speaks to your time in that business, or that employer organization and it's from someone who knew at that time or possible was your superior, the Immigration Department will certainly take that into consideration. Whether it will prove ultimately satisfactory or not, in the final analysis, depends on just how important the time spent in that employment is to the relevance of your current application.
If for example, you're saying that you've been responsible for producing moon widgets for that company and your special skills knowledge and experience for the new employer is to show that you're going to be producing moon widgets and the Immigration Department have got no way of concluding effectively that you have the experience that you claim, then you know, it could speak to the approvability all told. However, it's just general affirmation that you spend time in that role in that position, it's nothing too sensational about it from the approvability perspective, and then you can expect that second best evidence will suffice.
But the final analysis you have the burden of proof in relation to the extent of your CV. So, as far as you can satisfy the requirements the stronger you're putting yourself forward for an eventual approval.
Okay, I hope you find this useful.
More Stuff You May Find Useful or Interesting
| | |
| --- | --- |
| | |
| PODCAST ANSWER | |
Podcast: Play in new window