First Published August 17, 2014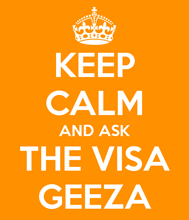 What's the story where a new employer has not yet set up shop in the HKSAR?
QUESTION
Hello Visa Geeza,
Thanks in advance! Your website has brought clarity on a number of questions I had on the visa process.
I do however have a few more.
I'm currently employed by a Hong Kong limited company, in the professional services industry, as a U.S. citizen.
I was originally invited to Hong Kong to work for this company, and arrived in Hong Kong in June 2011 (approximately 3 years and 3 months ago) under an employment visa sponsored by the said company.
I have since renewed my employment visa with the same company in June 2014, and it will expire in June 2016.
I have since been offered a new job with a different company located in Singapore that has no currently business dealings in Hong Kong.
The new company in Hong Kong does not deal in professional services, but industrial chemicals.
The parent company has been established in Singapore for the last 15 years with offices in the U.S. and Europe.
The new company in Hong Kong does not currently have any employees, nor do they have a current/valid business registered.
As part of the new job, they have asked that I set-up an office and register a new business in Hong Kong focusing on sales/trading of their products with me being the sole director/shareholder of the intended new Hong Kong office.
The intentions are to leave my current company, and establish/register the new business within the next couple of months.
As I begin the process to apply for an investment visa (I believe this is the appropriate visa rather than an employment visa) and register the new business, I have yet to notify my current company of my intentions to resign.
No official documents have been filed on either end for the investment visa or business as I'm trying to determine the right course of action.
Given my intentions to apply for an investment visa and register a new business as the sole director, I'm wondering what steps need to be completed first to ensure I have the correct visa application process in place (sponsored by the new company in Hong Kong) to avoid any visa breaches, and which does not jeopardize the business registration, or vice-versa.
This seems like a chicken versus the egg dilemma…
My goal is to successfully apply for the investment visa under the newly formed company, and to keep my path towards Permanent Residency uninterrupted since I'm already half way there!
I have rented my apartment for the 3 years 3 months I have lived in Hong Kong, established bank accounts, utility services/accounts, and etc in Hong Kong.
Again, thank you for your help!  This site and your services are invaluable for foreigners looking to establish ourselves in Hong Kong!
Hopefully, I have given a detailed account for your guidance.
More Stuff You May Find Useful or Interesting
| | |
| --- | --- |
| | |
| PODCAST ANSWER | |
Podcast: Play in new window