I have lived in Hong Kong for 27 years now.
I can honestly say, I have experienced it all…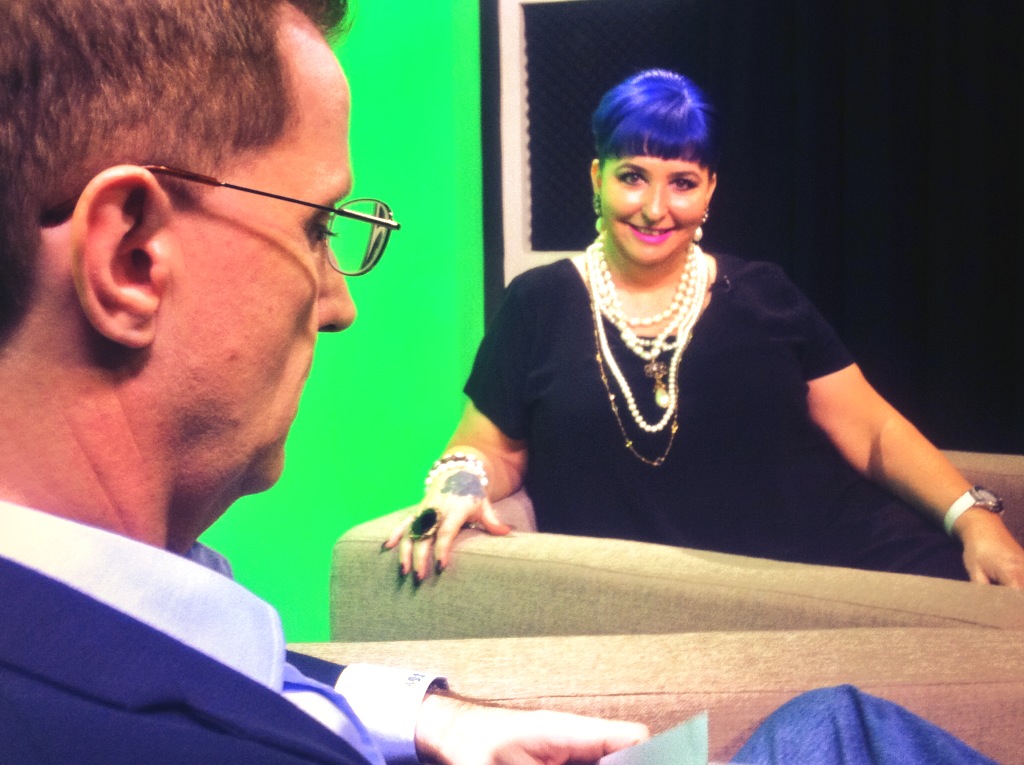 Rennie Fensham of Hollywood Hair During Her Visa Geeza Interview Earlier Today
* The Sino British Joint Declaration
* The Brain Drain
* The Handover
* The Asian Economic Crisis
* The Dot Com Crash
* 2 Gulf  Wars
* 9/11
* SARS
* The Global Financial Crisis
At the end of the 90′s, I thought I had missed out on a once-in-history revolution based on the new technology of the Internet.
So much was happening at once back then that I couldn't comprehend its import but now I realise that the dot com boom wasn't, after all, the real deal.
Nothing compared to what is coming next.
An era is over. The industrial economy is sputtering to an end with a new type of economy emerging; one based on relationships, sharing and generosity.
It's called the connection economy and it means everything is starting to change.
These are momentous times, so I have decided to interview entrepreneurship widely in Hong Kong to create a record of modern social history: a video snapshot in time of who is doing what in this great city over the next few years.
We're calling this ongoing production The Visa Geeza Interviews and offering the opportunity for entrepreneurs in Hong Kong generally to come and be interviewed on the show.
Basically you get to tell your story, share your experience of doing biz in Hong Kong and comment on how technology seems to be changing everything.
From the in-studio and on-location recording we produce your Visa Geeza Interview and you get to use the YouTube video any way you wish.
For free! (What else?)
If you want to come on the show, you're welcome to apply.
To qualify, you must be an entrepreneur doing business in Hong Kong.
You must have real skin in your game and you can be in any sector or Startup.
We want all kinds of entrepreneurs to tell their stories so please reach out and apply.
Let's face it, CNN or the SCMP are never going to pick you to report your life story so here's an opportunity to pick yourself.
Whilst the show is recorded at the Video Cha Cha studios in Wanchai, the director and producer is my good friend and raconteur Jason Black of Empire Media.
We completed the shooting of 4 interviews today and now we're planning out the next 12 months.
If you want to come on the show, please email Jason at empire-hk dot com writing VGI & Your Name in the subject line,
Please include a link to your website and also a short bio of your life since the age of 16. Mention particularly your entrepreneurial experience in Hong Kong and elsewhere.
Here's a piece of Jason's work on his very own Sizzle and Fry Show where he prank calls Chef Harlan Goldstein and Martyn and I give a donation to Foodlink for the pleasure!
Reach out, apply now and be a part of Hong Kong's business history.
Let us tell your story, 100% free!
Just another example of the connection economy!
More Stuff You May Find Useful or Interesting
And now for something completely different… Visa Geeza Speaks… Beginnings
The Hong Kong Visa Centre Sizzle's and Fry's With Jason & Janice – all for a great cause!
The Hong Kong Visa Geeza talks about the connection economy on RTHK Radio 3, August 2014
Top Secret!  If you really want to know how the Hong Kong Visa Centre business model works, here it is, all laid out!
Britcham spills the beans on the Hong Kong Visa Centre's deepest secret…