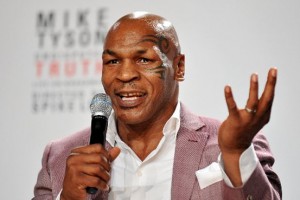 You have probably heard by now.
Yep, one of the meanest and toughest son-of-a-gun's who ever walked the face of this earth  is coming to town.
Probably.
That's if he can get a visa, he is.
You see, Mike Tyson has a criminal record; for a  very serious crime. Rape no less.
So what will Wanchai's Finest make of this?
The picture above I pinched from this article in the Wall Street Journal. Clearly the author of the piece has been on the phone to ask the Immigration Department what they thought of Mr. Tyson's impending arrival, specifically to find out if he was likely to get a visa or not.
"While Hong Kong has previously barred people from entering the city on the basis of their criminal records, a spokesman for the city's immigration department said Thursday its visa screening process is "quite fair and doesn't involve any discrimination regarding whether or not they have a criminal record." Cases such as Mr. Tyson's would be considered on an individual basis, the spokesman added."
The CLSA Investors Forum 2012  is to be held on the 10th-14th of September in Hong Kong. Interestingly the CLSA itself is owned by a Chinese State Owned Enterprise. Lots of undercurrent here…
As a US citizen, ordinarily, if he were coming to Hong Kong just to paint pictures of the harbour, he would not require a visa in advance of his arrival. He could present himself at the airport and seek 90 days entry as a visitor.
This would then put the examining Officer on the spot as to whether to admit him or not.
Other high profile characters previously incarcerated for crimes overseas have been refused entry before. Remember "Mr Nice" Howard Marks? He was denied admission a couple of years ago, although in his case he did write a book in which he admitted to crimes in Hong Kong previously (he brokered major drug deals out of Chung King Mansions in the 1980s if I remember properly).
Mike Tyson needs an employment visa to come and speak at this conference. He's arguably not crossing the Pacific for free, so he's coming for paid work. Even if it's just a one hour Key Note speech, he needs a visa to undertake this assignment.
So the HKID have a chance to consider his criminal record without the pressure of an airport encounter.
So to all those folks who search this Blog for 'criminal record' or ask me for specific advice on this matter via our Your Questions Answered PodCast service, you're going to learn very soon, in a very public way, what the Hong Kong Immigration Department make of criminal records.
If Mike Tyson gets his visa, there's hope for you too!
More Related Stuff For Your Information
Mike Tyson: Welcome in Hong Kong, New Zealand Say No, Australia Still Deciding
Will a criminal record impact on your eligibility for a Hong Kong residence visa?
The 5 key factors that impact on your application for a Hong Kong work visa
Can I come to Hong Kong to install equipment without an employment visa?