Cyberport Immigration Talk: On Thursday this week (April 28) at Cyberport, I am giving a presentation on visa considerations for business owners along with Chris Sykes from Dragon Law.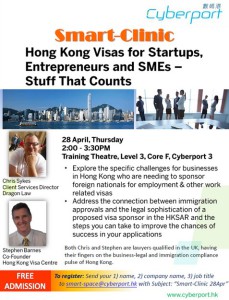 Our joint session will look at both immigration and labour law issues frequently faced by those in business for themselves and you're invited. It's 100% free.
You can find more information here.
When: Thursday, April 28, 2016
Where: Cyberport 3, Training Theatre, Level 3, Core F
Time: 2:00~3:30 pm
Cost: 100% Free!
You can RSVP via: smart-space@cyberport.hk.
Hope to see you there, then!
More Stuff You May Find Useful or Interesting