First Published August 27, 2012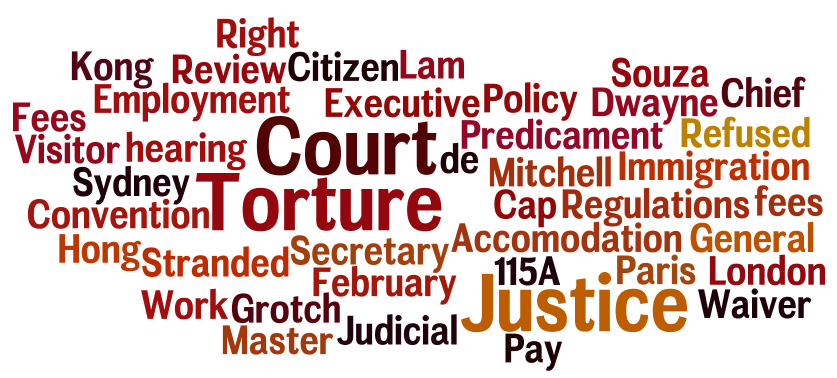 Note: I am presently fully engaged on the launch of Hong Kong Visa Sherpa so time's a bit tight to publish new content on this website for the moment. Consequently I am surfacing some interesting posts from down the years, giving them a lick of paint and showing them the light of day again!

Sue his way to a Hong Kong employment visa?
It is a very rare occasion indeed that private court hearings see the light of day and it tickles me pink that Mr Justice Lam allowed his 'in Chambers' decision to be published, so it can be read by anyone generally.
In case you're not too taken with reading legal judgments, this is the plot from an immigration situation that unfolded in Hong Kong in February of this year:
1. A US national flies from Sydney to Hong Kong en route to London.
2. After touching down in Hong Kong he changed his mind and decided he wanted to fly to Paris instead.
3. The airline wanted more money for the route change, and the man didn't want to pay.
4. In light of this he passed through immigration at CLK as a visitor and determined he was now 'stranded', and reckoned he was incapable of feeding and accomodating himself.
5. He then emailed the Chief Executive, the Secretary for Justice and the Hong Kong Immigration Department claiming he was being held in Hong Kong against his will by the denial of his right to take up employment as a visitor as he wanted to work to obtain shelter and food.
6. It was, he contended, impossible for him to be a 'visitor' in these circumstances as he couldn't leave and his treatment amount to 'torture' and thus a breach of the Torture Convention.
7. His legal claim was that he should be given permission to work in order to support himself.
8. The HKID wrote to him and told he needed to make an application for an employment visa  under the terms of the General Employment Policy (just like everyone else).
9. In the meantime, he sought the Court's intervention to judicially review the decisions leading to his predicament, but didn't want to pay the (modest)fees for this and demanded (and received) an urgent hearing in the judge's chambers to try to present his case.
10. The judge kicked him into touch post haste!.
You couldn't make this stuff up!
You can read the complete 2 page judgement here.
More Stuff You May Find Interesting or Useful